Cybersecurity Services
Threat Detection and Response, Perfected
Monitor, hunt for, investigate and remediate cyberthreats, 24x7
Fight Cybercrime. Protect Data. Reduce Risk.
Threat Detection and Response
---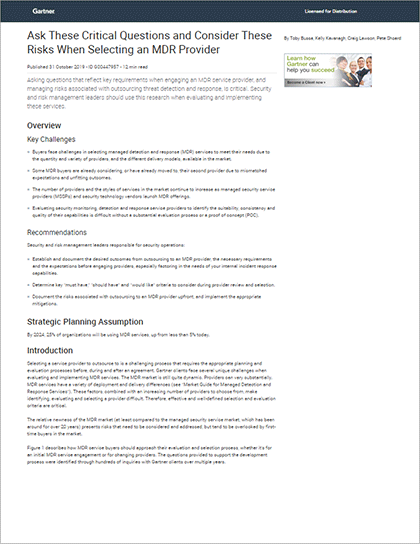 Analyst Report
Gartner Report: Ask These Critical Questions and Consider These Risks When Selecting an MDR Provider
This complimentary report from Gartner provides expert guidance on key challenges buyers face when choosing an MDR provider and recommendations to ensure a desired outcome.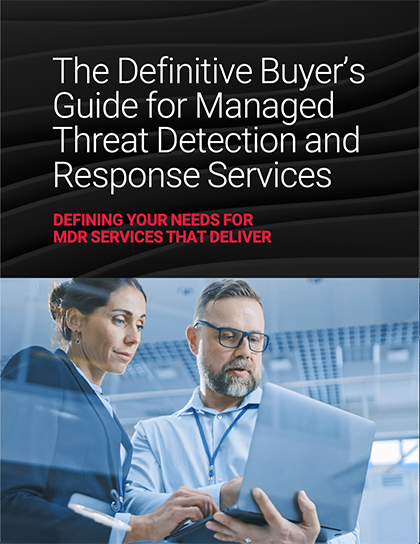 Buyer's Guide
The Definitive Buyer's Guide for Managed Threat Detection and Response Services
Threat actors continue to develop malicious, ingenious tricks and techniques, to stay one step ahead of security systems and response specialists. Meanwhile, security teams are facing a complex digital landscape coupled with over-extended, under-resourced teams.
MTDR Cost Analysis Calculator
Use our calculator to get an approximate understanding of the costs involved in building these capabilities in-house.
Recent Security Stats and Trends
SPAM GETS CANNED

Only 28% of email messages are spam in 2019 – down from 45% in 2018

27 MILLION DOLLARS!

The amount that one single business email compromise scam cost a company in 2019.

HIDING BEHIND GMAIL

30% of business email compromise attacks use gmail.com addresses in the from line.
"HELLO JOE"

In 2019, Ever-evolving ransomware threats increasingly used algorithms to address victims by name.

POINT OF SALE GETS SAFER

Continuing a multi-year decrease, POS declined to 5% of environments breached as merchants adopt safer standards.

WINDOWS 7 VULNERABILITY

30% of Windows desktop computers are still running Windows 7 – which began its end-of-life in 2020.