On-Demand Webinar
How to Mature Your Security and Risk Program
Optimizing your program through visibility, protection and remediation.
Trustwave Stories
The Incident Responder
Squaring off against the world's top cybercriminals, Matt Presser doesn't relent until he's found and overpowered them.
Fight Cybercrime. Protect Data. Reduce Risk.
Cybersecurity and Managed Security Services
---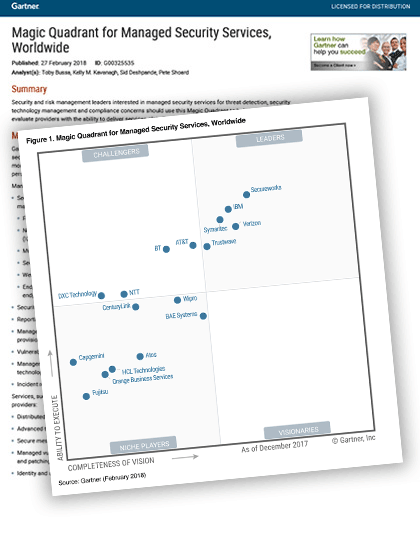 Analyst Report
2018 Gartner Magic Quadrant for Managed Security Services, Worldwide
Trustwave was named to the "Leaders" quadrant by continuing to move higher in ability to execute and further in completeness of vision within Gartner's graphical representation of vendor performance.
Recent Security Stats and Trends
Malware everywhere

59% of organizations have experienced a malware infiltration in the past six months.

Jumping the gun

77% of decision makers are facing pressure to release IT projects that are not security ready.

Midsized companies lack IT security roles

24% of midsize organizations do not have anyone with a dedicated information security or IT security role.
APT attacks accelerating

28% of organizations have experienced an advanced persistent threat attack, and three-quarters have failed to update their third-party vendor contracts to include better protection against APTs.

Bogus boss scams

27% of organizations encountered a CEO fraud attack in the past 12 months.

Business disruption attempts

The second quarter of 2015 saw a 132% increase in DDoS attacks on Akamai's Prolexic network compared to Q2 in 2014, and a 7% increase compared to Q1 2015.