White Paper
10 Principles of Database Security Program Design
Develop and apply a proven strategy for defending your organization's most prized possessions.
Trustwave Services
Managed Detection & Response for Endpoints
Most attacks begin on endpoints. Unless you can find and eradicate them first.
On-Demand Webinar
How to Mature Your Security and Risk Program
Optimizing your program through visibility, protection and remediation.
Fight Cybercrime. Protect Data. Reduce Risk.
Cybersecurity and Managed Security Services
---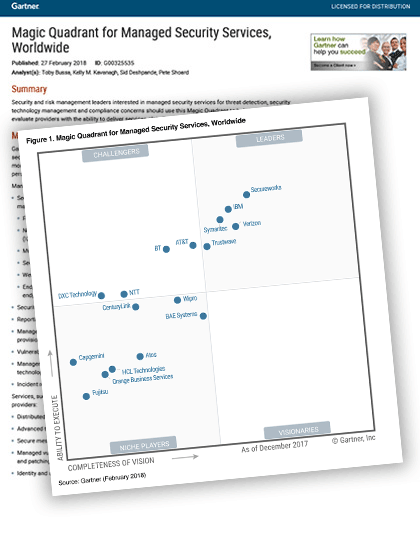 Analyst Report
2018 Gartner Magic Quadrant for Managed Security Services, Worldwide
Trustwave was named to the "Leaders" quadrant by continuing to move higher in ability to execute and further in completeness of vision within Gartner's graphical representation of vendor performance.
Recent Security Stats and Trends
Deception as useful as ever

Phishing and social engineering, at 55%, is the most common method by which attackers compromise organizations, followed by malicious insiders at 13% and remote access at 9%

If you don't catch it yourself...

83 days is the median time between intrusion to detection for externally detected compromises. That number goes to 0 for internally detected compromises.

Cross-site scripting still popular

40% of all web attacks Trustwave researchers observed in 2017 involved cross-site scripting.
How IT pros get the boot

A data breach that becomes public is a fireable offense for 38% of organizations.

A real pressure cooker

Fifty-three percent of IT security pros felt more pressures to secure their organizations in 2016 compared to 2015.

Overlooking the obvious?

Just 28% of large and midsize businesses consider their IoT-related security strategy to be "very important"