Organized crime syndicates are increasingly targeting restaurants for credit card data, as well as back office system access, which include payroll and HR information.
Food for Thought
A lack of internal personnel dedicated to and knowledgeable about security, combined with heavy credit and debit card processing, make restaurants a preferred cybercriminal target. The good news is your business, from quick-serve to fine dining, from global brand owners to franchisees, can improve data protection, remove complexity and lower costs.
---
What the Restaurant Industry Needs to Do
Assess risk (including at third-parties), and determine and inventory what needs to be protected.
Test and patch your vulnerabilities, especially in remote access software and point-of-sale systems.
Defend in real time against advanced threats, from targeted phishing to ransomware to point-of-sale malware
Monitor, uncover and respond to malicious activity and indicators of compromise, particularly around your endpoints.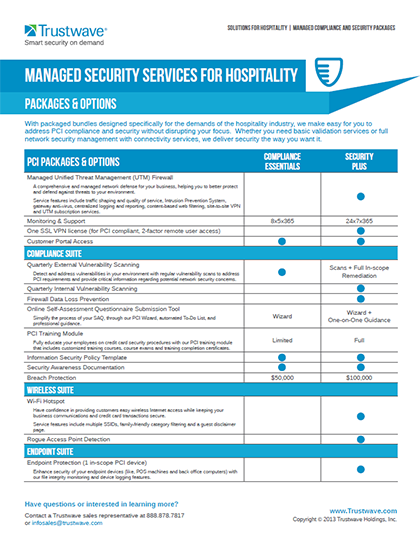 Data Sheet
Managed Security Services for Hospitality
With packaged bundles designed specifically for the demands of the hospitality industry, we make easy for you to address PCI compliance and security without disrupting your focus.
From Compliance to Security.
---
Amplify Your Team

Partner with 24x7x365 experts who understand your unique challenges and can offer assessment, advisement, monitoring and support.

Improve Visibility and Control

Gain access to an easy-to-use, cloud-based portal that gives you on-demand access to all your security and compliance services.

Strengthen Your Security

Start with a solid base for PCI compliance, then add on security technologies and services that take you beyond regulations and requirements to become even more resilient.

Maximize Your Investment

Control your budget and spending with convenient packages and flexible options delivered at a fixed monthly rate, requiring no hardware purchases or maintenance.
Services
Through packaged bundles designed specifically for the demands of the restaurant industry, we do the heavy lifting on your behalf to address security and PCI compliance without disrupting your focus. From basic validation services to full-on network security management with connectivity services, we deliver security the way you want and need it.
---
Go beyond the basics of PCI DSS compliance to strengthen your overall defense against threats. With comprehensive network security, combined with benefits of complete managed services and support, our Security Plus Package helps you maximize the impact of your security and compliance programs.
Simplify compliance with PCI DSS and acquire the tools you need to assess, track and document your compliance status. In short, we take the hassle out of meeting your management and validation requirements so you can focus on what you do best: your business.
Enhance your daily business operations with our integrated connectivity solutions, including managed cellular broadband, wired broadband, backup cellular broadband and analog backup dial. A quality solution can increase employee effectiveness and customer satisfaction, as well as generate more revenue.