By Topic
Securing Email and Web Gateways
Helps protect your business against email attacks and ensures your users are safe and productive when they go online and receive email.
Safeguard Your People and Their Business Communications
Email remains the top communications tool for businesses, and every company depends on having constant access to the web. Trustwave Secure Email and Web Gateways give your company the protection it needs to survive and thrive.
---
What Securing Email & Web Gateways Brings to You
Safe cover for your organization's email and web activity from attacks like phishing, spam and drive-by downloads.
Regulation and monitoring of email and web activity, with a policy customized to any size organization.
Protection of your company's sensitive data to help secure your brand and comply with regulations.
Insight into malware attacks so you can investigate at your convenience.
Access to Trustwave SpiderLabs, our elite security research team, which manages and optimizes your solutions.
Reduction of burden to your in-house IT team so it can concentrate on other, revenue-generating projects.
Control of your users' most frequently visited sites, from Facebook to YouTube.
Premium option brings you 24x7x365 email and phone support.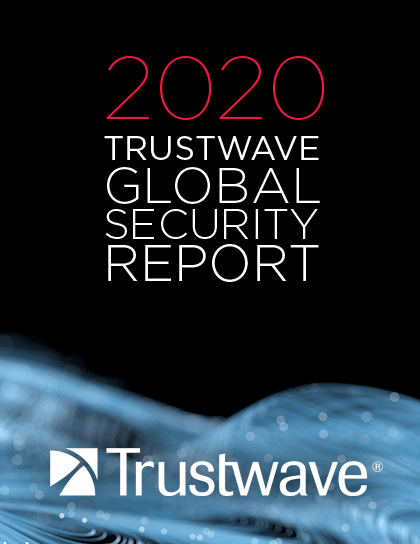 Research Report
2020 Trustwave Global Security Report
The 2020 Trustwave Global Security Report is a window into the latest developments in the world of cybercrime. Download your complimentary copy here.
Comprehensive Protection Against Sophisticated Threats.
---
Advanced Threat Protection

Keeps unwanted email out and evaluates every single web page your users visit. If malware is detected, it is stopped and users are delivered a repaired and safe web page.

Data Loss Prevention

Scans incoming and outgoing traffic and identifies data-stealing malware, and restricts users from posting sensitive data to social media sites or cloud drives.

Blended Threat Module

Scans an email's URLs every time a user clicks on it, even from mobile devices, to ward off the risk of cybercriminals exploiting multiple attack methods and vulnerabilities.

Extensive Policy Controls

Includes a custom policy control that looks at virtually every aspect of a message, including the subject, body and attachments as well as the user, department or domain. You can also create unique policies for different users or for specific IP addresses.

Management and Reporting

Obtain full visibility over your organization's email and web activity with regular reports that put all the pertinent information in your hands: the types and volumes of threats, where email attacks are coming from and your organization's web traffic trends.

Governance Best Practices

Monitor your email and online security policies to see if they're working, or if you need more stringent quarantine practices.
Technologies to Defend Email & Web Gateways
---
Helps guard your email environment against modern threats, such as malware, ransomware and phishing, and helps prevent loss of confidential corporate data.
Impedes new malware in real time and can help to pick up the slack for businesses lacking internal resources and intelligence to stop the latest web-borne threats.