Resources
Upcoming Events
https://trustwave.azureedge.net/media/13987/8820.jpg?rnd=131660301780000000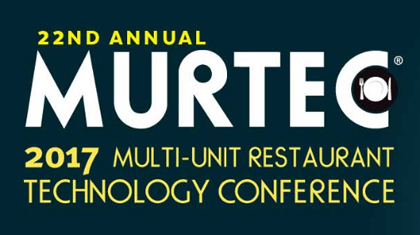 Conference,
Exhibition,
Trade Show,
2017 Multi-Unit Restaurant Technology Conference - MURTEC
Las Vegas, NV USA
Now in its 22nd year, the Multi-Unit Restaurant Technology Conference (MURTEC®) produced by Hospitality Technology, has become the "Gold Standard" event for education and networking in the restaurant technology industry. Hosting 700+ restaurant technology executives and solution providers, the event has grown every year to expand on all fronts - more technology, more education, more networking -all while still maintaining an exclusivity and intimacy that fosters invaluable peer-to-peer idea-sharing.

MURTEC remains at the top of restaurant industry events because of its laser-focus on providing IT leaders and solution providers with a forum to learn about and discuss issues of the day and consider action plans and future investments.
http://
March 07, 2017
March 09, 2017