Consulting
Data Protection Practice
Leverage data-driven risk management programs that optimize your resources to protect critical data and better defend your operations against cyber threats
Protect the Data You Thrive on
As more organizations move to the cloud, more data is susceptible to breaches than ever before. Trustwave Data Protection Practice helps keep your sensitive information safe across its life cycle by combining consulting, systems integration and managed security services.
---
What Data Protection Consulting Brings to You
Assurance that data is locked down regardless of where it's created, stored or processed.
Fortification against threats, whether they're insider threats or external risks, like ransomware.
A highly trained and skilled security team with the technological know-how and access to resources that you may not have.
A combination of consulting, systems integration and managed security services.
Enablement to meet your compliance mandates and safely and cost effectively roll out cloud initiatives.
An approach grounded in security fundamentals, from assigning access rights based on least privilege to improve your return on investment (ROI) by deploying cutting-edge solutions.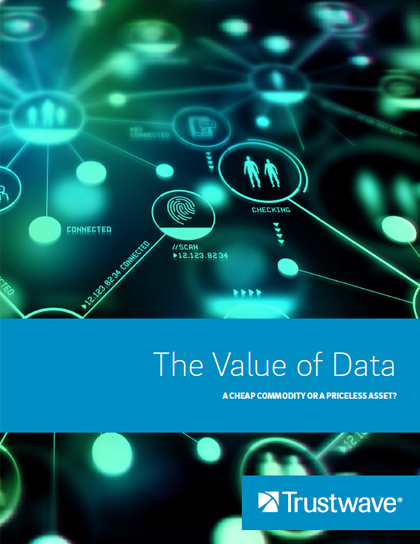 Research Report
Value of Data Report from Trustwave
This sponsored research report conducted by industry analyst firm Quocirca examines how countries and industries value their critical data.
Made for You. Run for You.
---
Integrated Services

Link security outcomes to business objectives through a risk-focused data protection strategy that includes controls, integrated tools to protect sensitive information and malicious activity monitoring.

Monitoring Access

Go beyond the protection of data itself to track and manage one of your weakest links: user access to data and devices.

Experts At Your Service

Gain access to security experts who deliver and manage your data protection program.

Personal Touch

Receive an optimal data protection program, which we build, run, monitor and respond to when issues arise.

Targeted Approach

Participate in data protection workshops, which we facilitate, plus receive personalized scans and penetration tests of your databases, networks and applications.

Managed Portal

Identify your company's critical data, determine where it's located and understand why it's important to you.

Day In, Day Out

Use our transformation methodology to make a smooth transition to our security services team, who can continuously monitor your data and respond to potential threats around the clock.

Learn More

Bolster your security maturity through workshops and a two-year road map (which includes an executive-level presentation) for improving your data protection.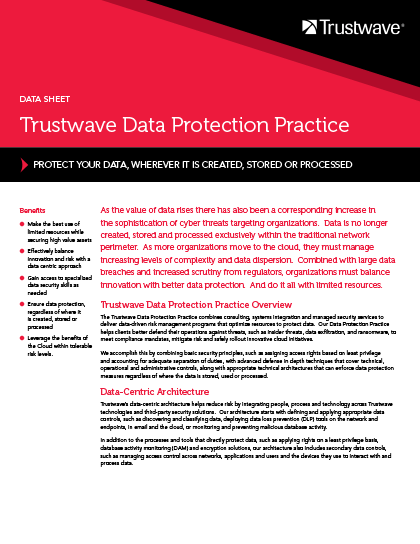 Data Sheet
Trustwave Data Protection Practice
The Trustwave Data Protection Practice combines consulting, systems integration and managed security services to deliver data-driven risk management programs that optimize resources to protect data. Our Data Protection Practice helps clients better defend their operations against threats, such as insider threats, data exfiltration, and ransomware, to meet compliance mandates, mitigate risk and safely rollout innovative cloud initiatives.