Email Security
Active Defense and Extended Protection for Microsoft 365 Users
Defenders need to be right every single time. Attackers, on the other hand, need to be right just once.
Protect Your Microsoft 365 Investment
While Microsoft 365 is a robust service offering, it misses significant phishing, malware and business email compromise attacks. And, while email security add-ons like Exchange Online Protection (EOP) or Advanced Threat Protection (ATP) have fairly good basic spam and malware filters, they will not reliably stop malicious spam or your end-users from gaining access to malicious emails haphazardly dumped into their junk email folder by Microsoft 365.
---
Enhance Native Microsoft 365 Email Security
Includes predictive heuristic, human and machine learning based intelligence
Specifically identifies evolving malicious emails and targeted threats
Provides layers of defense from spam, malspam, phishing and email compromise
Constantly fine-tuned to ensure a high degree of accuracy
New rules and threat intelligence are continually added to the detection and protection engines
Powered by industry-leading threat intelligence and Trustwave SpiderLabs Email Security Research and Malware Analysis Team
Better Together – Microsoft 365 and Trustwave MailMarshal Cloud
Microsoft 365 detects spam, and malspam to a much lesser extent when compared to the detection rates generated by Trustwave MailMarshal. Suspicious emails detected by Microsoft 365 are not quarantined from end user access giving cyber attackers, through their targeted victims, an extended opportunity to unleash malicious code into a computer network.
Conversely, combining the proprietary defense filters in Trustwave MailMarshal with the built-in security protections in Microsoft 365 delivers unprecedented detection and extended protection in real time by proactively detecting suspicious email, removing them from end user access and shielding well-intentioned end users from falling prey to known and targeted attacks. All at a per user, per year cost considerably less than upgrading to Microsoft 365 E3 or E5 license subscriptions.
Suspicious Email Detection Rate
When Trustwave MailMarshal cloud-based services are layered on top of Microsoft 365
---
---
---
Malware (IR Cases)
99.99%
---
Business Email Compromise
99.58%
---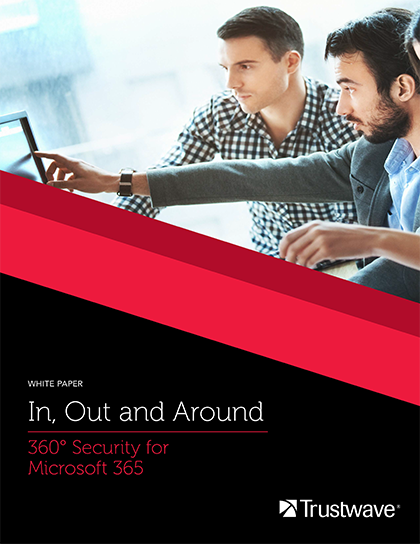 White Paper
In, Out and Around: 360° Security for Microsoft 365
If your organization is using or plans to move to Microsoft 365, learn what to expect from an email security, data protection and management perspective.