Law firms are being aggressively targeted by cybercriminals who want access to sensitive information that you may not be protecting as well as you should.
Disorder in the Court
Law firms are loaded with sensitive client information, making them attractive targets for cybercriminals, yet they often lack the internal resources necessary to adequately turn away attackers. The good news is that no matter the size of your firm, you can take steps to improve your security posture and expected outcomes.
---
What the Legal Industry Needs to Do
Assess risk and educate users.
Sniff out vulnerabilities and misconfigurations.
Concentrate on endpoint detection and response.
Prepare for and respond to incidents.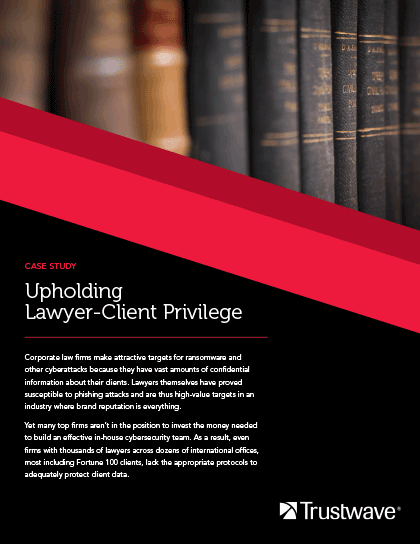 Case Study
Upholding Lawyer-Client Privilege
Learn how a top AmLaw100 upholds lawyer-client privilege.
Defend. Empower. Augment.
---
Maintain Confidential Client Data

Identify and mitigate the vulnerabilities that attackers could exploit to access your firm's valuable data.

Enable Your Attorneys

Allow your staff to be more productive by helping to ensure secure access to mobile devices and web portals.

Extend Your Security Team

Stretch your capabilities by gaining access to Trustwave expertise and knowledge that come from us successfully working with thousands of customers around the world.

Maximize Your Investment

Partner with Trustwave to identify how to make best use of your existing security resources and future investments.
Services
At Trustwave, our goal is to help law firms achieve their unique security goals, whether you are a large outfit or a single lawyer. Our solutions can help organizations that are just starting a security program, as well as ones wanting to advance what is already in place.
---
Offload the day-to-day management of security devices. The Trustwave Managed Devices service also includes Managed Detection for identifying, monitoring and investigating attacker activity.
Assess for vulnerabilities and penetration test databases, networks and applications on a single platform.
Quickly determine the source, cause and extent of a breach – and then contain, eradicate and investigate the incident, or get proactive by solidifying your response before a security event occurs.
Give your lawyers and other employees the tools they need to protect your data through cloud-based training that helps them understand threats, like social engineering, and instills best practices for security hygiene.