The ISO 27000 series of standards is a catalog of international standards focused on information security and published by the International Organization for Standardization, with 270001 describing the requirements for an ISMS (information security management system).
A Framework Worth Following
An efficient way to improve data protection, manage IT risk and respond to existing compliance requirements is to adopt an international information security standard, namely ISO 27001. Trustwave can help supply you with the expertise and technologies to get your business in alignment.
---
ISO: Fast Facts and Consequences
The ISO 27000 series of standards is a catalog of international standards focused on information security and published by the International Organization for Standardization.
The most prominent from the series are ISO 27001, a management standard that can be audited, and ISO 27002, which specifies best practices and controls – but is not a certification standard.
Think of ISO 27001 as a "lifestyle," whereas upholding day-to-day certification with the standard should be viewed as more important than point-in-time accreditation.
ISO 27001 follows the plan-do-act-check cycle.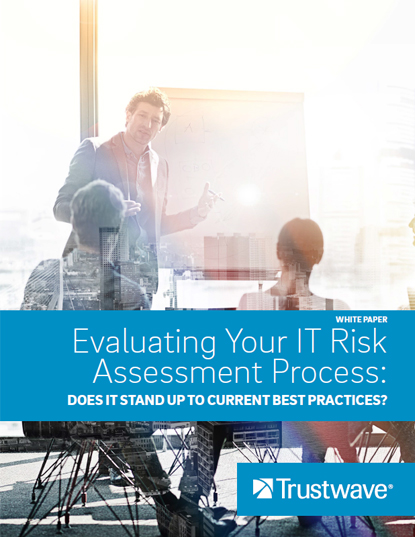 White Paper
Evaluating Your IT Risk Assessment Process: Does it Stand Up to Current Best Practices?
Industry-leading organizations make it an annual best practice to conduct an information technology (IT) risk assessment to meet their own compliance standards, even beyond regulatory mandates. In the current turbulent threat landscape, it's critical that you evaluate your security framework in light of the level of risk that you have determined to be appropriate for your organization and its key assets. This white paper outlines risk assessment security frameworks and best practices for your consideration.
End-to-End Coverage.
---
Tailored for Your Organization

Our compliance and risk assessments examine of your current security architecture and help move you toward a robust security framework.

Extensive and Experienced Support

Our team of seasoned compliance support analysts are available 24x7x365 to assist in your certification journey.

Security Portfolio Enables Compliance

We help get you secure so ISO accreditation becomes a natural byproduct. Our suite of security products and managed services helps protect critical assets and combat advanced threats.

Supported by Industry-Leading Threat Intelligence

Our elite SpiderLabs team and federated global network of security operations centers produce unique threat intelligence that helps us prevent, monitor and respond to your security events.
Services
Through a comprehensive portfolio that can help uncover gaps, manage risk and assign controls, Trustwave can send you on a fast track toward ISO 27001 accreditation.
---
Augment your existing staff with managed security services that evolve processes, elevate data protection strategies and advance the way you monitor for, detect and respond to threats. With deep expertise and unmatched threat intelligence, we will design a program that supports your accreditation needs, while giving you complete visibility and control.
Receive on-demand, precision-based penetration testing to uncover system weaknesses, with just a few clicks of a mouse. With a subscription, you can log in to the portal and schedule testing of vulnerabilities in databases, networks and applications.
Identify security lapses and ensure your information repositories stay protected from internal gaffes and nefarious attackers.
Prepare for and react to security incidents and breaches with the help of our SpiderLabs team, who identifies root causes of incidents and communicates responses in a way your team and management can understand.