Advanced protection against today's sophisticated email-based threats, extensive policy controls, and in-depth data security and compliance management.
Overview
Make Email Safer
Protecting your email environment against spam, malware, phishing attacks, business email compromise, account takeover, ransomware and more is one of your top priorities.
Trustwave MailMarshal's multi-layered intelligence and detection engine performs a deep analysis of your inbound email traffic, in real-time, to protect your users from cyber threats.
MailMarshal enables you to integrate the workflow of your email content into business processes while scrutinizing outbound email traffic to prevent the loss of your proprietary data, intellectual property, confidential documents and financial records.
What is Trustwave MailMarshal?
Trustwave MailMarshal is a sophisticated multi-layered approach to email security, pioneering the latest proprietary and best-in-class technologies to reduce false positives and protect against spam, gateway attacks, viruses, phishing attempts, and malicious URLs embedded in email. It provides complete email protection against phishing and business email compromise (BEC).
Service Highlights
What you get with Trustwave MailMarshal
Data Loss Protection
Powerful data loss protection to help safeguard your intellectual property and achieve regulatory compliance
SIEM Integration
Ability to integrate into any Security Information and Event Management (SIEM) with APIs available for threat remediation
Domain Protection
Domain protection from unauthorized use with Domain-based Message Authentication, Reporting and Conformance (DMARC)
Forgery Detection
Detection of forged sender addresses in emails with Domain Keys Identified Mail (DKIM)
AIP/RMS Integration
Microsoft Azure Information Protection and Rights Management Services (AIP/RMS) integration
Complete Control
Comprehensive management controls and a flexible policy engine to enable workflow integration with your custom business processes
Built-in Intelligence
Built-in industry, machine and human intelligence from elite Trustwave SpiderLabs email security researchers
24/7 Support
Around-the-clock support via online, email and phone, plus maintenance updates
MSS Integration
Easy integration with Trustwave Managed Security Services for more in depth endpoint, database and network threat protection
Performance Accuracy
High detection rates and less false positives​
Platform Compatibility
Works seamlessly with cloud-hosted service providers​
Budget Friendly
Budget-friendly email security backed by industry-leading threat intelligence​
Simplified Implementation
Enables customers to achieve cost effective and comprehensive email security
Trustwave SpiderLabs
Industry-leading security researchers reverse-engineer and de-obfuscate unknown exploits and malware variants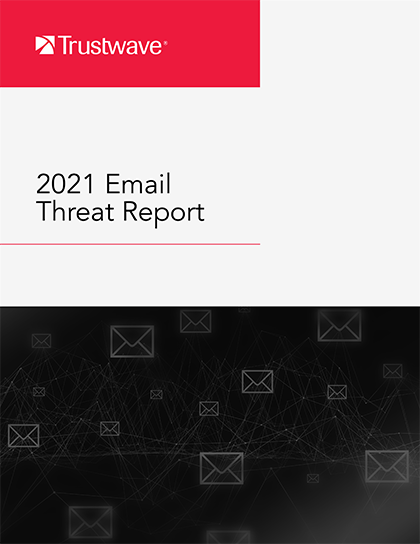 Research Report
2021 Email Threat Report
The 2021 Trustwave Email Threat Report details some of the most significant email threats organizations face and provides a window into the latest developments in the world of cybercrime.
Layered Protection
Layering Trustwave MailMarshal with Microsoft 365 or other web-based email gateways
Layering Trustwave MailMarshal with Microsoft 365 or other web-based email gateways delivers advanced protection from ordinary to sophisticated attacks by proactively detecting suspicious email, removing them from end user access and shielding well-intentioned end users from falling prey to known and targeted attacks.
Deployment Options
Flexible Deployment Options that fit the Needs of Your Business
On Premise
Gain industry leading protection against spam, phishing, malware, blended and targeted attacks by retaining on-site control and granularity of the data in your environment with an on-premises solution.
Hybrid
Maintain flexibility and control while migrating to cloud email solutions. Combine a software-based on-premises or SaaS-delivered cloud deployment to furnish additional layers of protection and provide maximum detection against advanced threats.
Cloud
Gain industry leading protection using a constant flow of product updates and enhancements. Achieve improved email security, and save money by complementing your web-based email gateways with Cloud.
Free Trial
Try Trustwave MailMarshal with SQL Express free for 30 days.
Standard Features
Comprehensive Protection
Advanced Detection and Filtering

Stops external phishing, business email compromise and other threats by scanning for email anomalies, inconsistencies, and malicious behavior in the email's structure, content, attachment, and links.

Extensive Policy Controls

Implement custom policy configurations based on trigger points, content filtering and other policies for greater control.

Customizable Business Email Compromise (BEC) Protection

Avoid targeted phishing and BEC attacks through the combination of email security measures, employee education and best practices.

Data Loss Prevention (DLP)

Scan outbound emails and attachments to provide full DLP-level inspection to manage confidential data and meet stringent industry and regulatory requirements.

Time of Click URL Scanning

Validates every URL and webpage at the time of click and not just at the time of receipt to ensure you are protected anytime and from any device.
Optional Features
Additional Security Modules
Advanced Threat Protection

Identifies, catches, neutralizes and blocks, in real-time, websites that serves up suspicious or malicious code to company users and provides zero-day protection against phishing, blended and targeted threats.

Comprehensive Email Archiving

Provides a systematic approach to save and protect the data contained in email messages to enable fast retrieval. This tool plays an essential role at companies in which data permanence is a priority.

Image Analyzer

Automatically scans and sorts images entering the company via email into two categories – offensive and normal and acceptable. Protects employees, customers and suppliers from exposure to inappropriate and illegal content reducing and removing legal liability.

Malware Analysis Sandbox

Proactively prevents advanced malware and provides a safe environment in which to execute and observe malicious code or to encourage threats into exposing themselves. It also reduces the amount of time between infection and remediation, mitigates the risk of breaches, and detects zero day or unknown attacks.

Simple, Advanced Email Encryption

Email users can securely send emails containing sensitive or confidential information and documents to any recipient around the globe without requiring the recipient to download or install any software.
System Requirements
For on-premise edition of Trustwave MailMarshal