Data privacy regulations and standards exist around the globe requiring the protection of personal information and notification of individuals affected by a data breach.
Privacy by Design
As breaches became more commonplace, privacy laws started popping up in the early 2000s to regulate the privacy of personal information – and their prevalence has only grown. Trustwave has deep experience in helping you establish best practices for managing personal information in complex environments, while facing multiple compliance requirements.
---
Data Privacy: Fast Facts and Consequences
Acquire greater visibility into the data and assets you are responsible for securing.
Identify vulnerabilities across databases, networks and applications (including mobile).
Rapidly mitigate the impact of a security incident with a comprehensive incident response plan.
Treat compliance, namely the PCI DSS and PA-DSS, as the floor, not the ceiling, when it comes to your security.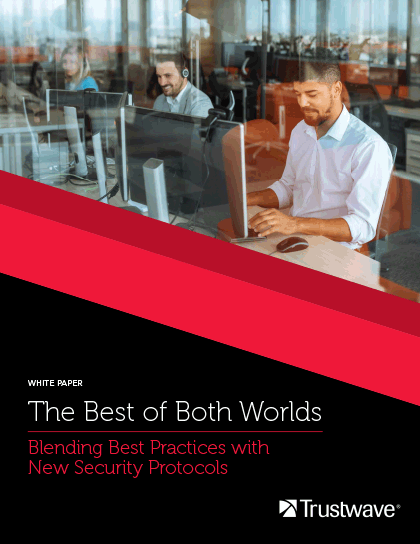 White Paper
The Best of Both Worlds: Blending Best Practices with New Security Protocols
Cybersecurity is an ever-evolving discipline. Attacks change, technologies come and go, processes adjust, new compliance mandates are regulated, and people are there to hold it all together. But none of this is new, and not likely to change much. It's the way of life for today's security organizations.
End-to-End Coverage.
---
Structured, Risk-Based Approach

Our risk governance framework, powered by compliance and security expertise, will help identify your gaps and let you know what you need to do to get secure and compliant.

World-Class PCI Experts and Services

In addition to being a qualified security assessor, Trustwave is a qualified Payment Application Data Security Standard (PA-DSS) assessor, point-to-point encryption (P2PE) assessor, approved scanning vendor (ASV) and a PCI forensic (PFI) investigator.

Supported by Industry-Leading Threat Intelligence

We monitor billions of security events worldwide each day and produce unique threat intelligence that fuels our suite of security products and services. You also gain access to the Trustwave SpiderLabs elite team of ethical hackers, forensic investigators and security researchers.

Automation When You Need It

The Trustwave Fusion platform is a cloud-based cybersecurity platform that serves as the foundation for our managed security services, products and other cybersecurity offerings.