The Cybersecurity Maturity Model Certification is a unified standard implemented by the U.S. Department of Defense that requires any contractor in the defense industrial supply chain obtain third-party assessments to certify cybersecurity contract and is a requirement for contract award.
The Rule
The CMMC – Cybersecurity Maturity Model Certification – is a unified standard for implementing cybersecurity across the defense industrial base (DIB) supply chain and requires contractors to obtain third-party assessments of their compliance with certain mandatory practices, procedures and capabilities. Trustwave Services for CMMC compliance can help advance flexible security by providing clients with customized security maturity levels between 1 and 5, as required by their unique goals.
---
CMMC: What you need to know
The framework is specifically for the Department of Defense only. All 300,000+ members of the DIB, which include suppliers of goods and services to the DoD need to become CMMC-certified—regardless of size.
One of the most impactful requirements of the CMMC is that the certifications will be determined by accredited and independent third-party certified organizations.
Prior to the CMMC, the DoD required all contractors and subcontractors to be NIST SP 800-171 compliant. Not only will this still be the case regarding the new framework, but other portions of cybersecurity standards will be brewed into the new cybersecurity model, including NIST SP 800-53, ISO 270001 and ISO 27032.
What are the five levels of maturity?

Level 1: Safeguard Federal Contract Information (FCI)
Level 2: Serve as transition step in cybersecurity maturity progression to protect CUI
Level 3: Protect Controlled Unclassified Information (CUI)
Levels 4 & 5: Protect CUI and reduce risk of Advanced Persistent Threats (APTs)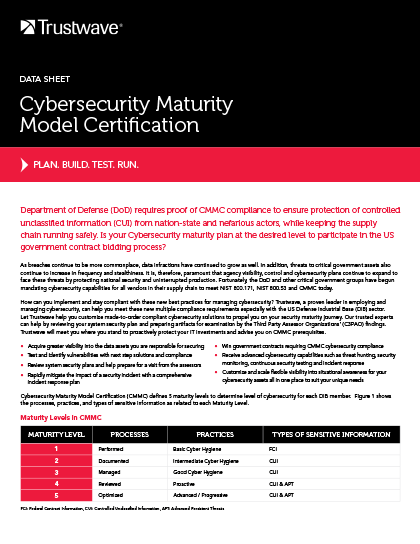 Data Sheet
Cybersecurity Maturity Model Certification (CMMC)
Department of Defense (DoD) requires proof of CMMC compliance to ensure protection of controlled unclassified information (CUI) from nation-state and nefarious actors, while keeping the supply chain running safely. Is your Cybersecurity maturity plan at the desired level to participate in the US government contract bidding process?
Advance Your Compliance
---
MSSP

Provides 24x7 threat detection and configuration management focused on visibility, governance and compliance enforcement, management of IT configuration and settings, and threat detection and investigation in a stealthy environment.

Consulting & Professional Services (CPS)

Trustwave offers CMMC consulting and professional services (CPS) advisory around security program designs to plan and build unique security strategies to protect IT data assets and investments. We can help holistically and strategically assess how well your organization is addressing requirements and develop a plan for remediating weaknesses.

Trustwave SpiderLabs

Renown Trustwave SpiderLabs offers a one stop shop for Security Testing Services (STS); with more flexible options, robust outcomes and better value because of deep, core competency in cybersecurity skill sets. We know cyber and we know security.

Proactive Threat Hunting (PTH)

Trustwave has proven results across entire SOC maturity, strategy, and governance of scalable roadmaps. Proactive Threat Hunting (PTH) is recommended for Maturity Levels 4 and 5 when Advanced Persistent Threat (APT) controls are required.

Other Services

Specific to CMMC, Trustwave is one of a few cybersecurity companies that provides a full set of security lifecycle services from advisory to testing to managed services. Other MSSPs only perform some configuration management (compliance-as-a-service), not Managed Threat Detection and Response.