Keeping data secure is one of the key cybersecurity challenges that organizations of all types, and across all industries, are currently reckoning with. It's been said that data is the lifeblood of a business – an incredibly precious resource that holds assets of immense value, such as intellectual property, trade secrets, financial data and more.
Unfortunately, along with that value comes peril—as criminals are increasingly incentivized to try to compromise databases, and organizations that suffer breaches must grapple with financial ramifications, loss of reputation and potential legal concerns.
To win this fight, organizations must arm themselves with the right tools—and database security solutions are among the most important. To help provide practical guidance and advice on how to make the right choice, we interviewed Mark Trinidad, Senior Product Manager at Trustwave.
Defining General Types of Database Security Products
On a basic level, database security buyers will typically be searching for different categories of products or services, including:
Database scanning products that are purposefully built for data stores, specifically to search for vulnerabilities and misconfigurations. These are important, because broad-based network scanners won't provide the type of fidelity that database scanners will.
Database activity monitoring solutions, which organizations will use to understand all of the behavior surrounding a database and to search for potential trouble spots. These solutions can help you understand who is accessing a database and how – and potentially block certain activity.
In addition to those broad categories, there can be additional solutions that organizations might deploy, such as firewalls, applications which encrypt specific data, and other purpose-built solutions.
Why Database Security Products Are Important
Because of the rising trends in breaches that target data, having database tools is crucial for helping security teams gain a deeper understanding of what issues exist – and where they need to focus their efforts. 
"The importance always comes back to cybersecurity," Mark said. "The need for data protection is driven by regulations, from privacy rules to other compliance requirements, that are being pushed down to organizations. That's why it's never been more important to have the right security products protecting your databases."
The Most Important Features to Look For… 
As potential database security buyers evaluate different solutions – and compare different features — the most important thing is to identify what your risk is, according to Mark.
"The only way to understand what your database risk are is to know their weaknesses," Mark said. "And the way to do that is to test them. Understand what's in them… and how and why they might be attacked."
Within that paradigm, the most important features to look for are those that help you assess the security of your database. Look for vulnerability and configuration assessment features that can help you capture risks – and understand where to go next with your security program.
"If you don't have a tool that can help you establish risks, you're wasting your time, because you won't be able to respond to issues if you don't know how to properly assess them," Mark added. "Understanding the risk levels of activity is the only way you will be able to respond properly."
...And The Features You Might Want To Skip
On the reverse side, features like activity blocking are sometimes heavily touted, but today are rarely used on a practical basis. The risk that an organization might inadvertently block transactions that might be critical to their success means that very few actually turn these kinds of features on.
Taking the First Steps
As buyers begin to evaluate different database security solutions, there are a few practical first steps they should take before making a commitment:
Fully understand what you need to accomplish. Organizations often begin with a single business requirement, but during the vetting process realize there are additional goals. Fully connecting data protection back to the larger business objectives – and the larger cybersecurity strategy – is essential. Consider holding stakeholder meetings inside your organization.
Prepare an RFI or RFP. Your Request for Information (RFI) or Request for Proposal (RFP) will help potential vendors understand your needs – but more importantly will help you evaluate vendors and solutions.
Fully vet the solution before making a commitment. Take advantage of the opportunity to implement a proof of concept evaluation. This will help you understand how the solution works in the real world before you make a commitment.
"It's really about having a holistic view of what you want to do before you commit to anything," Mark said. "Pay special attention to what analysts are saying as you evaluate your choices. And think about your individual situation – how much infrastructure change might you need to make to implement a solution? Do you need to make changes to your network configuration? You really need to understand how it's going to fit into your unique environment."
Finally, with the ongoing shift to storing data in the cloud, buyers with cloud databases should consider if the solution they're considering can integrate both on-premise and cloud-based data stores into one holistic view.
---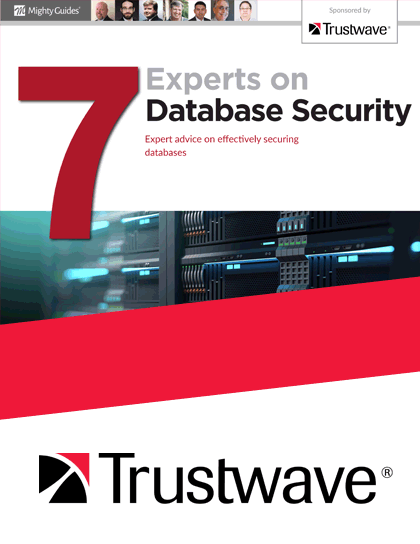 EBOOK
7 Experts on Database Security
Organizations are challenged with protecting their databases from the rapidly growing number of attacks while demonstrating compliance with stringent security and privacy regulations. In this Mighty Guide, security leaders share best practices on how their organizations have successfully protected their data stores in today's formidable threat environment.