For organizations of all kinds, the threats from cyber criminals continues to grow and evolve. At the same time, internal IT departments must make do with tight budgets, skill shortages, and the growing complexities of multi-sphere security environments.
Historically, offerings like Managed Security Services (MSS) have helped fill those gaps. MSS – especially when combined with Managed Threat Detection and Response (MTDR) – can be ideal for organizations that need flexibility.
But for organizations that might be new to the world of MSS, what is the process of getting started like? What are the main benefits that a client should expect to realize? And how does MTDR truly fit into the mix? To find out, we interviewed Rachelle Felix-Blackmon, Director of Global MSS Business Operations at Trustwave.
"I've learned a lot about what customers need… as opposed to what they want. MSS addresses what customers need. A lot of companies focus on their core competencies, so what MSS does for them is to bring on a trusted partner with the skill set, tools, experience and resources to focus exclusively on their security posture at all times."
Watch the full interview below:
---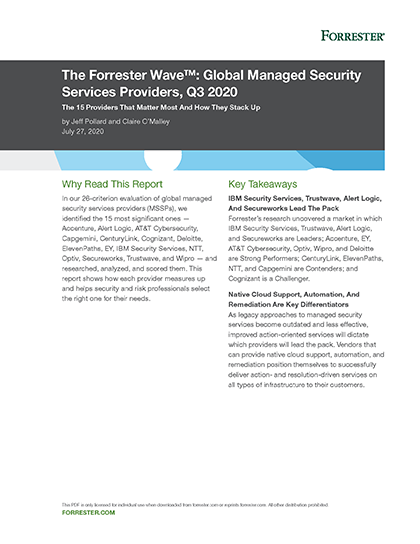 ANALYST REPORT
The Forrester Wave™: Global Managed Security Services Providers, Q3 2020
Trustwave was among the select companies that Forrester invited to participate in The Forrester Wave™: Global Managed Security Service Providers, Q3 2020 evaluation. In this evaluation, Trustwave was cited as a Leader and received the highest score among participating vendors in the "Current Offering" category.