Consulting
Cybersecurity & Risk Services
Map out your organization's security gaps, and establish tactical and strategic plans to execute security transformation.
Avoid Rolling the Dice
Identifying and prioritizing cyber risks allow organizations to use the facts to support internal alignment and acquire necessary funding to enable change. Trustwave Cybersecurity and Risk services help you achieve this with the help of consultants who operate alongside your internal team as trusted advisors.
---
What Cybersecurity and Risk Assessment Brings to You
Our team members average more than eight years of experience in IT security or information security.
Built-in research from Trustwave SpiderLabs, our elite group of ethical hackers and forensic investigators dedicated to fighting cybercrime.
A dedicated analyst to ensure your project runs smoothly day to day.
Management processes like NIST and ISO 27000 to assess risk and implement best practices.
Ability to scale engagements depending on your needs.
A final report that includes priorities, recommendations and a full narrative of our findings. We also offer decision support consulting.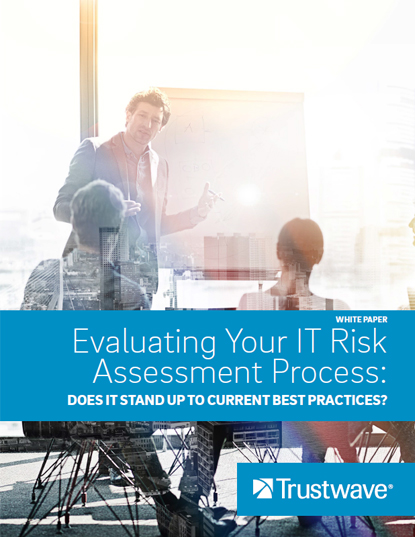 White Paper
Evaluating Your IT Risk Assessment Process: Does it Stand Up to Current Best Practices?
Industry-leading organizations make it an annual best practice to conduct an information technology (IT) risk assessment to meet their own compliance standards, even beyond regulatory mandates. In the current turbulent threat landscape, it's critical that you evaluate your security framework in light of the level of risk that you have determined to be appropriate for your organization and its key assets. This white paper outlines risk assessment security frameworks and best practices for your consideration.
Knowledge is Your Best Defense.
---
Address Today's Volatile Landscape

Identify, quantify and prioritize risks introduced by emerging threats and vulnerabilities with a risk assessment customized for your environment.

Close Your Gaps

Discover your exposure and prioritize risk mitigation for your key assets, policies and procedures so you can meet security maturity targets and compliance obligations.

Overcome Your Third-Party Risk

Manage your partner relationships and the data you share with them.

Identify Costs and Efficiencies

Make smarter decisions around budget allocation and the efficiency of your security investments across people, processes and technology.