Consulting
Digital Forensics & Incident Response
Quickly determine the source, cause and extent of a security breach with Trustwave. Or work proactively with the Trustwave SpiderLabs team to better understand your cyberthreat preparedness.
Our Experts Working for You
A quick and efficient response to a cyberattack can save you time and money in the long run. Trustwave Digital Forensics and Incident Response (DFIR) consulting services allow you to determine the source, cause and extent of a security breach quickly, and to better prepare for the inevitable incident.
---
What DFIR Brings to You
Multifaceted reactive emergency response and proactive incident readiness services available.
As-needed consulting services via a DFIR emergency response retainer.
The ability to transfer unused emergency response retainer hours to other IR readiness program services for a minimum purchase.
Our incident responders work with your team to deliver an investigation that is cognizant of industry regulations.
Identify. Investigate. Remediate.
---
Our Experts Work for You

Gain access to our renowned SpiderLabs experts, who have extensive experience with the tools and techniques used by today's advanced attackers.

Flexible Service Delivery

Get what you need, whether it is emergency response if you suspect you've been breached or proactive preparation to help you batten down the hatches for the inevitable event.

Get the Board on Board

Create a board of directors-ready structured and comprehensive approach to management that addresses threat readiness before, during and after an incident.

24x7 Global Response

Limit exposure, stem losses and preserve evidence thanks to a global team that responds quickly to incidents and in an organized manner, which is paramount to containing a breach.

Litigate with Confidence

Ensure the protection of chain-of-custody for the evidence of a digital crime with our expertise in digital evidence handling.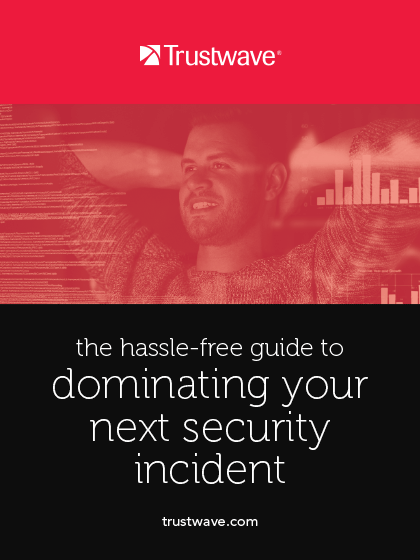 Ebook
The Hassle-Free Guide to Dominating Your Next Security Incident
Not every company has a fully grown incident readiness and response (IR) process and program in place. This handbook lays the groundwork for why mature IR is so important and then delivers a step-by-step guide for prepping for and addressing a wide range of security incidents.