Education
Cybersecurity Awareness Training
Fulfills learning objectives by delivering up-to-date online training for general employees and developers through compelling and consumable content.
Class is in Session
A successful defense against cyberattacks starts with empowering employees to practice secure computing and training developers to build resilient code. Trustwave Cybersecurity Awareness features up-to-date educational courses to help your staff elevate its infosec consciousness.
---
What Cybersecurity Awareness Training Brings to You
Awareness and education curriculum introduces general employees, including executives, to security best practices.
Secure development training teaches technical staff to write strong code.
A phishing service sends targeted emails to 'test' user responses to social engineering attacks.
Content vetted by our ethical hackers and senior compliance officials, including a full library of interactive and animated lessons, plus supplemental videos, posters and reference guides.
Training Courses and Services List
---
Security Awareness and Education
Select from a catalog of courses based on employees' roles, or you can mix and match lessons to create a unique curriculum targeted to each individual. Each lesson is engaging and accessible to both leaders and rank-and-file employees. From an always-on-the-go sales team needing a refresher in how to protect information on smartphones to young new hires requiring a crash course in social media use, our extensive library of content amps up your team's skills.
Secure Development Training
Targets developers, engineers and IT personnel, and covers everything from secure software architecture and design – which helps your company build protection into applications before the first line of code is written – to software testing that can discover a vulnerability before release.
Phishing Service
Sends targeted phishing emails, courtesy of our ethical hackers, to gauge employee responses. Whether you provide email addresses or Trustwave SpiderLabs experts conduct their own online research to discover targets, the phishing service simulates email content that looks attractive enough to compel the victim to take action.
Security Awareness and Education + Phishing Service
To best guard your organization against prominent attacks, you can choose to package the security awareness and education curriculum with the phishing service. This means that if a worker falls for one of our simulations, they're sent back to a training module to brush up on best practices.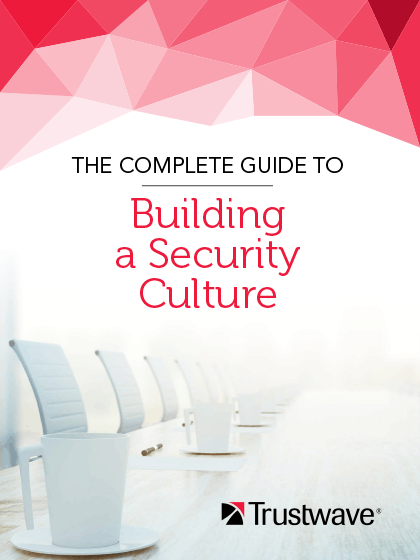 Ebook
The Complete Guide to Building a Security Culture
This 25-page e-book will help you build a security culture that clicks. Spread across six chapters, this resource is filled with actionable recommendations, examples and best practices that will amplify your efforts toward making security a collective effort that everybody wants to own – and lead to decreased risk for the overall business.