Managed Security
Managed Threat Detection and Response
Proactively hunt for, investigate and eradicate cyberthreats, 24x7.
Eradicate threats. All day. Every day.
Your job is to keep your business moving. Our job is to stop threats so that your business can keep moving. Period. We embed our elite expertise and proven threat lifecycle capabilities into your security program and environment to help you identify threats, investigate the depth and scope of those threats, and help you respond by taking containment actions. We partner with you to eradicate threats. All day. Every day.
---
What Trustwave Managed Threat Detection & Response Brings to You
Benefit from the collective experience of a renown group of top-notch security experts, including the Trustwave SpiderLabs® team.
Access industry-leading global threat intelligence capabilities including Trustwave SpiderLabs® original research.
The Trustwave Fusion platform gives you consolidated visibility across your diverse and distributed security environment and organization. And visibility includes full transparency into our services.
Our layered detection and investigation process includes human conducted continuous and proactive threat hunting by the Trustwave SpiderLabs® team.
More than guidance, we offer the ability to take response actions on your behalf, leveraging security controls to contain and eradicate threats.
Consultants and advisors help you optimize your security program and technology investments with your changing needs and the evolving threat landscape.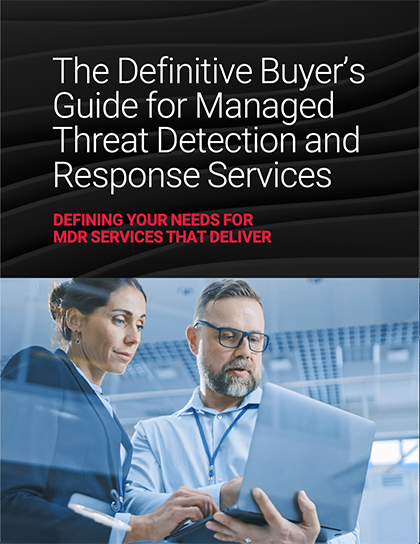 Buyer's Guide
The Definitive Buyer's Guide for Managed Threat Detection and Response Services
Threat actors continue to develop malicious, ingenious tricks and techniques, to stay one step ahead of security systems and response specialists. Meanwhile, security teams are facing a complex digital landscape coupled with over-extended, under-resourced teams.
MTDR Cost Analysis Calculator
Use our calculator to get an approximate understanding of the costs involved in building these capabilities in-house.
Why Working With Us Is Different
---
Customer-Centric Approach

We integrate our services with your security environment and program – not the other way around - to provide you complete visibility across endpoint, network and cloud and so that we can eradicate threats for you.

Proactive Eradication of Threats

When we see something happening in one customer environment, we apply what we learn to detect and respond to that threat across our customer-base. And unlike many in the industry, when we find threats, we eradicate them.
Trustwave Combines World-Class MSS to Provide Leading MDR
---
The Trustwave Fusion platform and elite SpiderLabs team provide industry-leading automated threat detection and response capabilities, threat intelligence and powerful analytics for both MSS and MDR
Flexible Managed Threat Detection and Response Services
Our customer-centric approach is to work with you to focus on the use cases that drive the best ability to detect and response to threats. We'll help you choose the level of service that's right for your organization, with the flexibility to expand as your needs change.
---
Trustwave Managed Detection & Response
Managed Detection and Response services start with your endpoints to provide the ability to investigate threats and take containment actions once a threat has been identified. We leverage advanced endpoint detection and response (EDR) technology that provides real-time behavioral analytics and match that with a robust global threat intelligence library. Response capabilities are personalized to your security environment and include the ability to expand to customer clouds, network and log and data sources.
Trustwave Co-Managed SOC
With Trustwave Co-Managed Security Operations Center (SOC) services, Trustwave can integrate with your existing Security Information and Event Management (SIEM) system in order to extend your team's capacity. Working as part of your SOC, we partner with you to maintain continuity of your team's ability to monitor, investigate and respond to attacker activity with Trustwave Managed Detection.