Managed Security
Managed Threat Detection
A 24x7 service helping organizations of all sizes monitor for and detect threats.
24x7 Monitoring & Detection of Advanced Threats
Analyzing log and event information coming from devices and applications takes time and expertise, and advanced threats and attackers don't wait for anyone. The Trustwave Managed Threat Detection (MTD) service helps to quickly and effectively make sense of this data by providing the platform, processes and people to monitor, detect and alert on threats.
---
What Managed Threat Detection Brings to You
Visibility into your environment through collection of logs, events, metrics and other data.
An easy means to collect, consolidate, normalize, compress and securely transport data to Trustwave.
Automated analysis by a cloud engine to find known threats, anomalous behavior and suspicious activity.
Human analysis when needed for advanced threat triage, threat hunting, reverse engineering and other activities.
Unified data storage of logs, events, alerts, findings and incidents in our federated multi-tenant data store.
Secure access to data and reports 24x7 via the Trustwave TrustKeeper portal.
Comprehensive Protection.
---
24x7 Threat Monitoring & Detection

Gain broader visibility into threats and faster breach detection via a leading correlation engine and experts who are monitoring and analyzing your data around the clock.

Global Threat Intelligence

Develop and maintain threat indicators and use cases focused on up-to-the-minute intelligence for both regional and global threats, all delivered by our elite SpiderLabs team.

Broad Data Coverage

MTD uses log, event, and alert data from a variety of sources. The data is correlated and analyzed using automated and human-based methods to find known threats, anomalous behavior and suspicious activity.

Ease and Flexibility

Decide on multiple monitoring and detection service options, including ones with an on-site SIEM so you can leverage the service that best meets your security and/or compliance needs.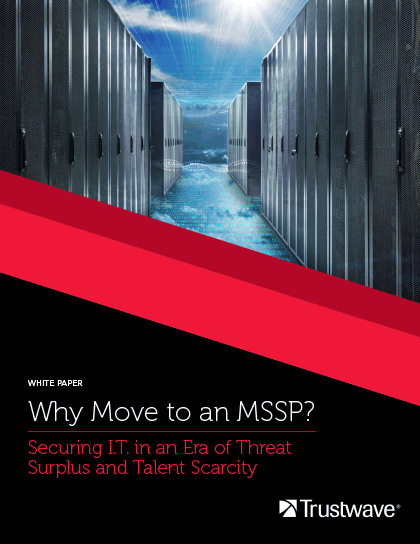 White Paper
Why Move to an MSSP?
Securing IT in an era of talent scarcity and threat surplus.
Deployment Options
---
Managed Threat Detection (MTD) Service
24x7 continuous security monitoring and threat detection.
MTD with Hybrid SIEM or Managed Security Operations Center
Includes MTD plus an on-site SIEM (either from Trustwave or a third party).
---
Cloud Log Monitoring Service
Customer conducts their own monitoring via the Trustwave TrustKeeper portal.
---
Managed Threat Review Service
Periodic security-focused review by a Trustwave analyst.