Security Testing
App Scanner
On-premises dynamic application security testing (DAST) software that identifies vulnerabilities in cloud and web applications – and helps you maximize efficiency of your distributed team of IT, development and security personnel.
Application Security for Cloud and Web Applications
The longer a vulnerability remains exposed in a public-facing application, the more likely that an attacker will identify and exploit it. Trustwave App Scanner Enterprise allows your organization to protect its apps and close off a popular attack vector.
---
What App Scanner Brings to You
Reduced risk by focusing resources on the most significant vulnerabilities.
Time and resource savings by chasing fewer false positives.
Pre-built reports for the easy demonstration of progress and/or compliance.
Integration with the Trustwave Web Application Firewall.
A flexible, modular architecture reduces risk management complexities.
Deployment options to either run it yourself or augment your team with the App Scanner Managed service.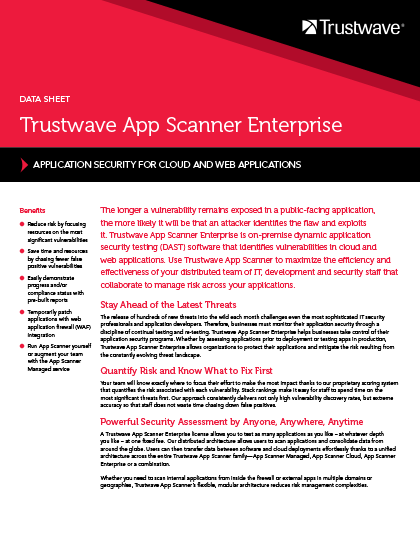 Data Sheet
Trustwave App Scanner Enterprise Data sheet
Trustwave App Scanner Enterprise is on-premise dynamic application security testing (DAST) software that identifies vulnerabilities in cloud and web applications. Use Trustwave App Scanner to maximize the efficiency and effectiveness of your distributed team of IT, development and security staff who collaborate to manage risk across your applications.
Measure Risk to Manage Risk.
---
Stay Ahead of the Latest Threats

Assess applications prior to deployment or test them in production, allowing you to protect these front doors to your sensitive data.

Know What to Fix First

Quantify the risk associated with each vulnerability, so your team will know exactly where to focus their efforts to make the most impact.

Assessments Anywhere and Anytime

Reduce the complications of risk management with a distributed architecture that scans applications and consolidates data from around the globe.

Thorough and Accurate Scanning

Gain visibility into even your most complex applications with "spidering" capabilities that emulate malicious hackers, as well as a browser plug-in for app traversal training.

Demonstrate Effectiveness Over Time

Track trends and report on effectiveness over time across any number of web applications and services, through an intuitive interface.

Transcend the OWSAP Top Ten

Select varying levels of assessment depth depending on your objectives with App Scanner's library of 128 "SmartAttacks" vulnerability categories.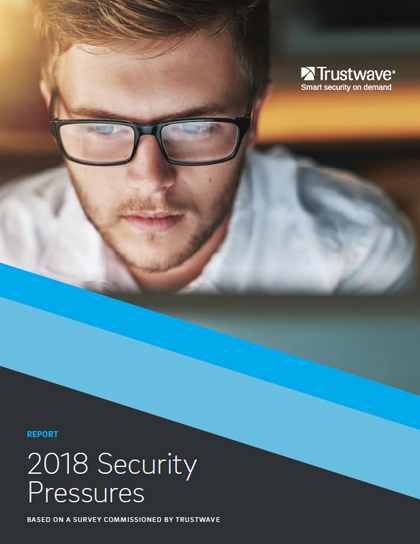 Research Report
2018 Security Pressures Report
Based on a survey of 1,600 information security decision-makers and influencers in six countries, the 2018 Security Pressures Report from Trustwave delves into the often-maddening world of keeping businesses safeguarded against cyber threats, attacks and compromises. The 44-page report, now in its fifth year, measures more than a dozen pressure sources – from biggest threats and responsibilities to data breach repercussions to staffing levels – and breaks the findings out by respondents from the United States, Canada, United Kingdom, Australia, Singapore and Japan.
Deployment Options
---
App Scanner Managed
Trustwave experts manage app onboarding, scans, validation and reports. Additionally PCI 3.0 level testing is available.
Augment your team
Fast and reliable results
Maximize budget
Enable compliance
App Scanner Cloud
Unlimited scanning for duration of subscription and low-price options per application.
Easy
Convenient
Affordable ownership
App Scanner Enterprise
Modular, distributed architecture with a centralized dashboard which includes role-based privilege control, trend reporting and more.
Manage distributed team
Scan apps from anywhere
Scale across your organization
Enable compliance