Resource Hub
COVID-19 and Your Cybersecurity
Security resources, recommendations, strategies and services that offer you help and guidance around threat detection and response.
Fight Cybercrime. Protect Data. Reduce Risk.
Cybersecurity and Managed Security Services
---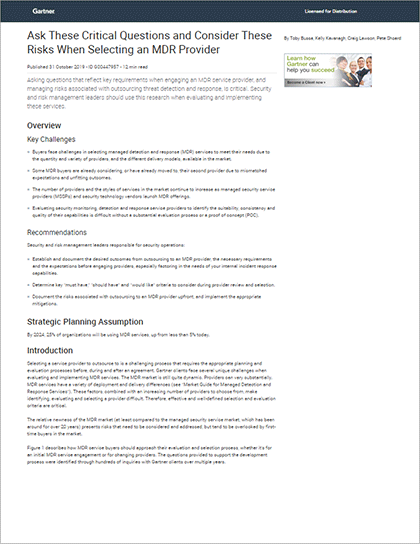 Analyst Report
Gartner Report: Ask These Critical Questions and Consider These Risks When Selecting an MDR Provider
This complimentary report from Gartner provides expert guidance on key challenges buyers face when choosing an MDR provider and recommendations to ensure a desired outcome.
Recent Security Stats and Trends
ASIA PACIFIC UNDER SIEGE

The Asia-Pacific region led in the number of data compromises investigated, accounting for 35% of instances, overtaking North America at 30%.

DATABASE VULNERABILITIES ABOUND

The number of vulnerabilities patched in five of the most common database products was 148, up from 119 in 2017.

ALL APPS VULNERABLE

For a second straight year, 100% of web applications tested possessed at least one vulnerability, with the median number of vulnerabilities rising to 15, up from 11 in 2017.
WORSENING SKILLS SHORTAGE

51% of IT and security professionals believe their organization had a problematic dearth of cybersecurity skills, up from 23% in 2014.

FIRST FEAR

U.S. CEOs place cybersecurity as their No. 1 business worry, ahead of new competitors and a recession.

264,483

The number of unique phishing reports submitted during the second quarter of 2018.