In cybersecurity, it can be said that the only constant is change. Every year, the pace of technological development is matched only by the relentless emergence of new and ever-shifting threats—creating an imperative for techniques and practices to evolve as well.
Historically, baselining and tuning was used by cybersecurity practitioners to configure tools and the actions of managed security service providers (MSSPs) to help organizations generate the appropriate alerts and actions. But, just as the cybersecurity industry is generally shifting towards more of a managed detection and response (MDR) model, these tried and true practices also need to change.
How can baselining and tuning evolve to fit the current MDR model? To find out, we talked with Kory Daniels Global Director, Threat Detection & Response Consulting at Trustwave.
The Traditional Approach
The traditional mindset behind baselining and tuning is that cybersecurity teams would feed their technology, or their cybersecurity vendors, data – in the hopes of generating the alerts that they needed. In other words, they followed a data first approach. This led to a situation where organizations were not fully understanding the baselining and tuning process – in particular, not fully understanding the length of time that was necessary to successfully complete the baselining process and how that led into "live" mode, where you have a high fidelity view of your operational state.
"Many organizations over the years, from a combination of immature tooling and an immature framework and methodology regarding the baselining and tuning processes, unfortunately wound up in a kind of state of indefinite baselining, " Kory said. "They never really reach the quality of alerts that they need to aid in their investigations, and to understand how they can take the appropriate actions in regard to the risks to their business.
This has been a challenge for organizations, in part because it costs time and money, but also because some organizations never arrive at the level of security maturity that they need. The difference between organizations that did baselining and tuning well, versus those that didn't, tracks back to a strong methodology that almost turned the process on it heads by taking a threat-first approach.  
Redefining the Process
A threat-first approach to modern baselining and tuning allows organizations to be more tactically prescriptive, as they work proactively to select the data that drives the right actions for their business. This also allows them to determine how to manage that data over time, since they can start with external data, move to internal data, and then to additional data types in the ecosystem (like cloud data). By taking a phased approach, you can document as you go and be prescriptive about where you want your focus to be.  
"In the modern era, baselining and tuning should really be about what use cases and threats we are going to mitigate," Kory said. "So, the new modern approach to baselining and tuning is really about shortening your success criteria. That's the shift taking place right now – from a data-based approach to a threat-based approach. Data types have grown exponentially over recent years – so the old approach simply isn't feasible anymore."
Now, organizations are best served by starting with the threats – and the use cases – that you want to be able to detect and investigate. Add on to that the use cases of how your organizations will investigate and respond when an alert goes off, and that will then drive the data that you need so you'll have a clearer picture of what baselining and tuning you'll need to do for the outcomes that you need.   
"Organizations used to start big," Kory said. "The traditional method was to start with a big data set, then prune it down to find the actionable intelligence. But that's expensive. In the modern era, a threat driven approach allows you to start small—and focused—and then add on to it. So, you can always focus on the things that are important to your business."
---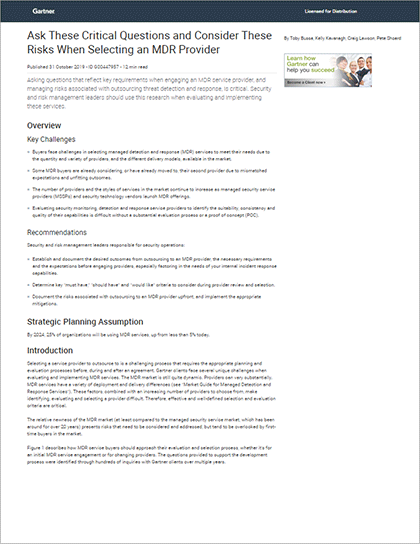 ANALYST REPORT
Gartner Report: Ask These Critical Questions and Consider These Risks When Selecting an MDR Provider
This complimentary report from Gartner provides expert guidance on key challenges buyers face when choosing an MDR provider and recommendations to ensure a desired outcome.